The National Handball Championships was a welcome initiative for children in Outside School Hours Care to give them a much-needed break from screens and to reignite their passion for sport after a challenging 2020. Handball has been a universal activity for children to have fun and play with their friends.
COVID-19 Saw More Screen Time and Less Physical Activity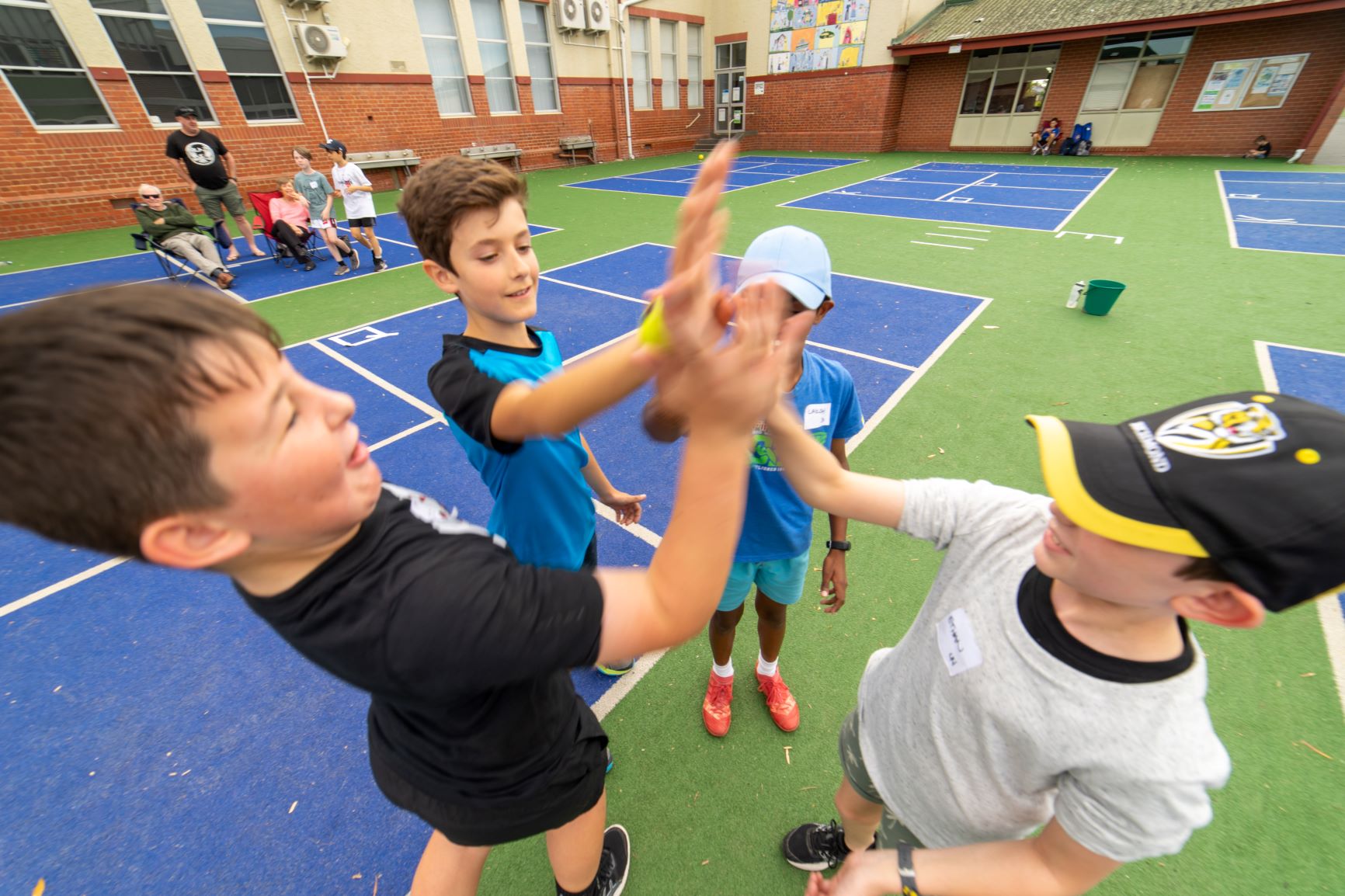 Most have pointed the finger at COVID for increased screen use and a rise in sedentary behaviour for primary school children. In fact, our survey with over 124 partner schools and 1,138 parents highlighted some important truths that helped to shape the national run event to help children back to the COVID-normal way of life.
The research results showed that over 88% of parents felt that their child had increased their time spent on screens during periods of remote learning. Schools were on the same page, with 96% of those surveyed noticing that their students were 'screen happy'. In addition to this, physical activity was low; 69% of parents said that their child had decreased their physical activity, and 90% of schools observed a decrease in physical wellbeing due to the loss of participation in sporting activities.
Aside from screen use on the rise and physical activity on the decline, parents and schools (69% and 90% respectively) indicated that children felt disconnected from their friends and family during COVID-19 restrictions.
Fair Play in the Lead Up to Game Day
Over 12,000 children participated in the National Handball Championships, including over 4,600 children in Your OSHC in after school care and 9,000 children in Rocketeers. The Service Championships were held both in Term 1 and during the recent school holidays.
In Your OSHC, children enjoyed 2 weeks of practice to polish up on their handball skills and acquaint themselves with a game that every child loves! They then went on to battle it out at the service championships, where one child per service progressed through to the regional finals.
Schools and Educators Show their Support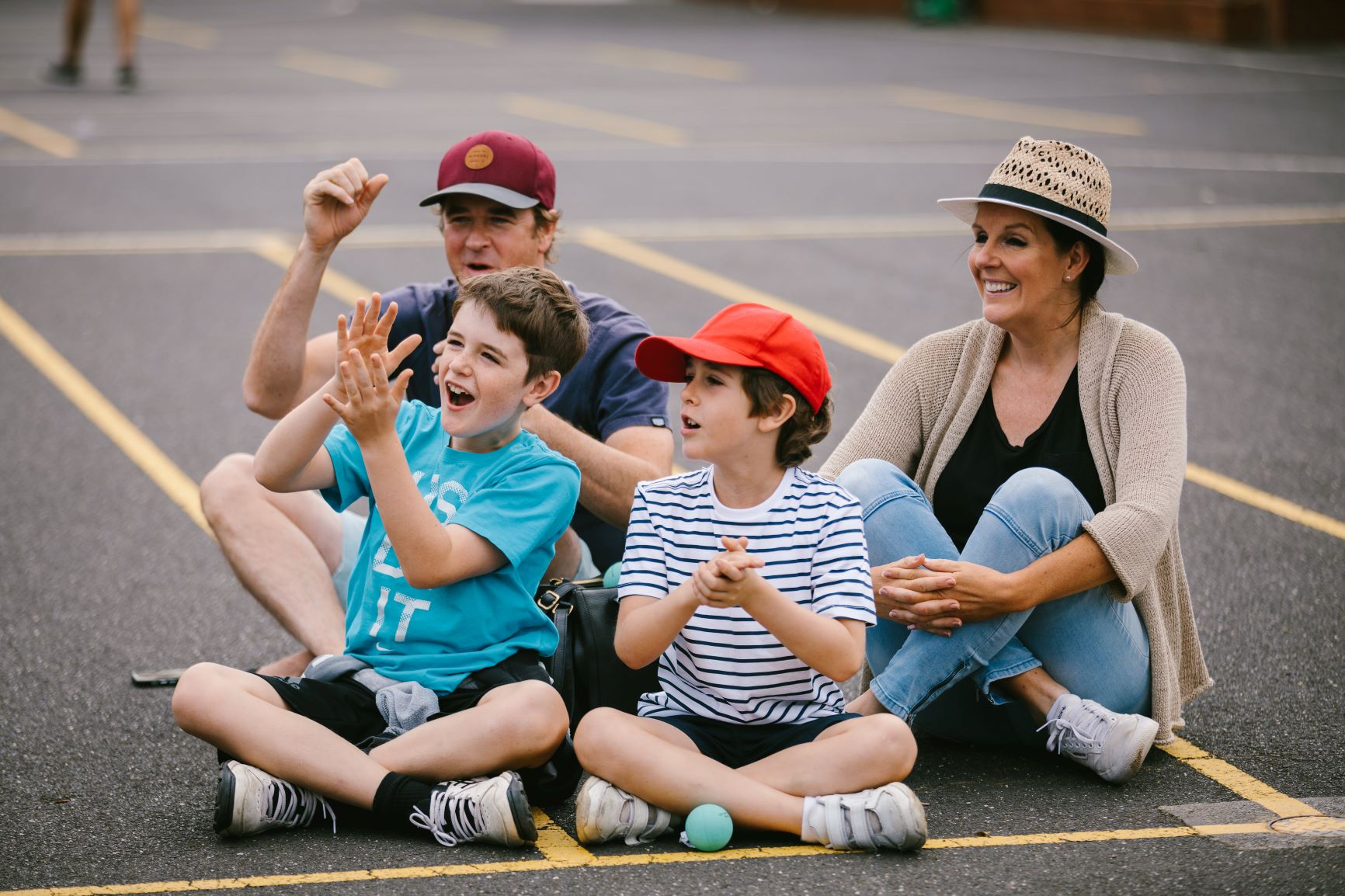 We were fortunate to have the support of 468 of our partner schools who encouraged children to participate in the service championships in Your OSHC in after school care and also in Rocketeers. Their support has meant that children of all ages have had the opportunity to participate and get involved in physical activity.
We extend our thanks to the following 12 schools who provided their school grounds for the Regional Championships, held on Sunday 2nd May:
ACT – St John Vianney's Primary School
NSW – The Hills Grammar; Mount Annan Christian College; Belmont Christian College
NT – Ludmilla Primary School
QLD – Augusta State School
SA – Le Fevre Peninsular School
VIC – Mordialloc Beach Primary School; Hughesdale Primary School; Marymede Catholic College; Montpellier Primary School
WA – Aveley North Primary School
In addition to the support from schools, Outside School Hours Care educators showed their commitment to the National Handball Championships. One of our educators from NSW states, "The handball championships were such a great idea, looking forward to the next event!".
This was a new initiative that saw our educators learn the handball rules to guide children through the training weeks and service championships. They encouraged children to try their very best and improve on their handball skills at each practice session. We commend the way that services involved children in the championships and supported them through the process.
Sports Personalities Encourage Children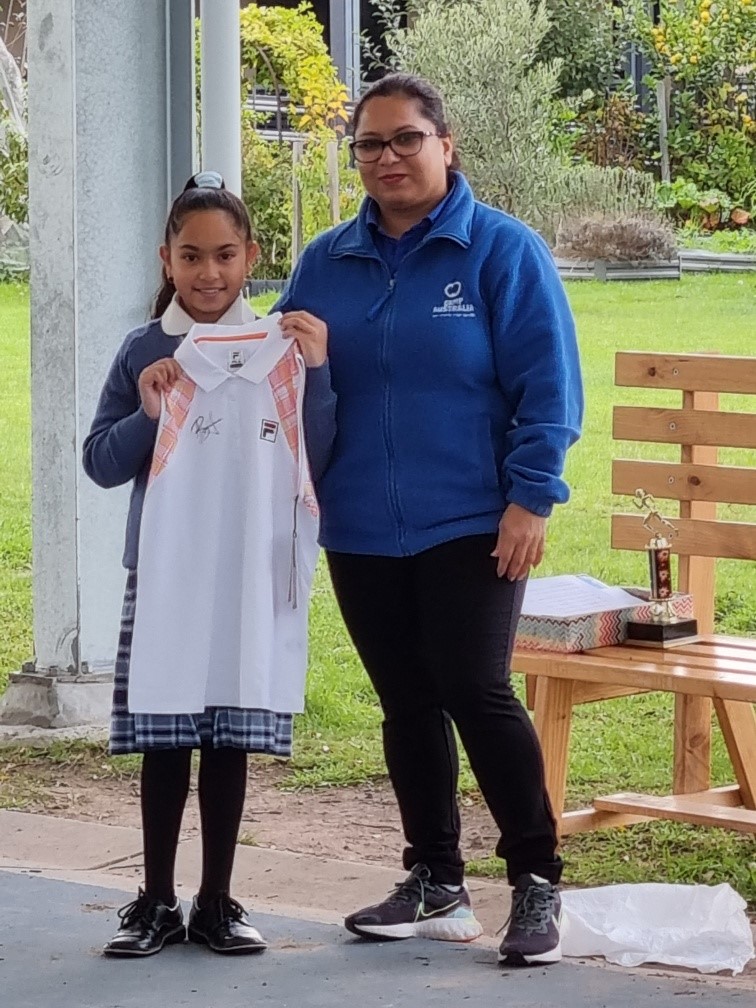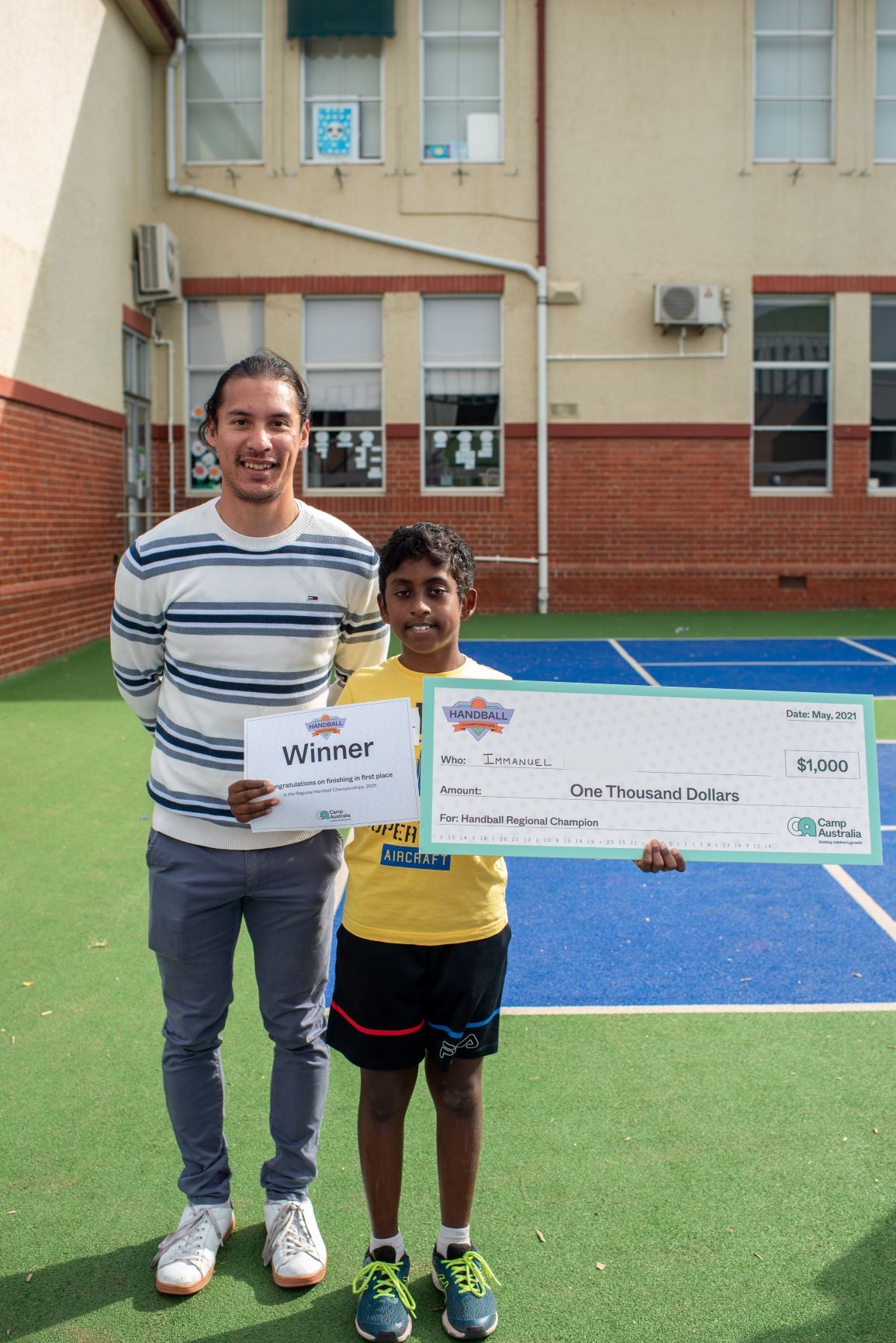 Ash Barty generously donated a signed top to a child who participated in the service championships during after school care. The winner of the prize displayed a positive attitude during training sessions and helped the younger children to learn the rules of the game. Sport is all about teamwork after all.
For the AFL fans, Mitch McGovern sent a video message to children competing in the regional finals, encouraging them to have fun and enjoy being active. We were also provided signed merchandise packs to give away. In addition, Kara Antonio stated, "Bringing fun, physical activity to kids is always crucial to their health and wellbeing."
The St Kilda Football Club provided inflatables for one of the locations, which gave children a welcome break during the various rounds of handball. They also donated signed merchandise packs.
The winner of this year's Stawell Gift, Ed Ware, spent time at one of our services in Victoria and handed out prizes to the champions.
We thank all of our supporters and appreciate their encouragement for the children attending our Outside School Hours Care services. Children admire the personalities and teams, and to have their support has been a real boost for children and has brought them excitement, especially leading into the Regional Championships.
Championship Winners Announced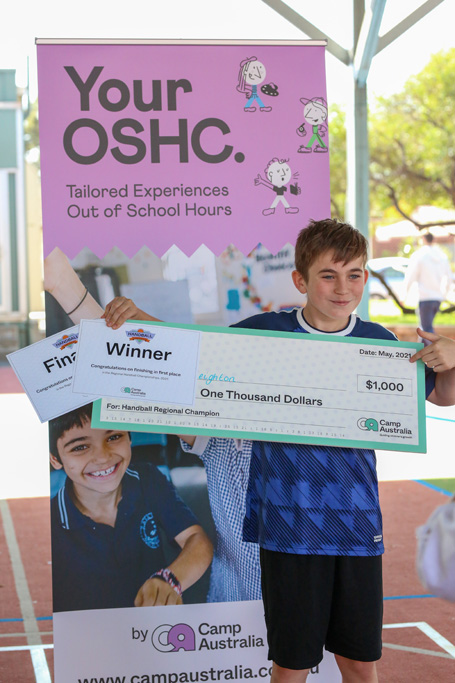 Congratulations to all children who displayed determination, resilience and positivity throughout the championships. All children and their families should be proud of the way they conducted themselves during training, service championships and regional championships.
Our CEO, Warren Jacobson said, "The competition met all of its objectives, in getting children active and guiding their growth in learning to follow structure and rules and to be gracious in victory and defeat."
Drum roll…
The Regional Championship winners and the school they attend are listed below and each child takes home a $1,000 eftpos gift card.
Angelo from Harcourt Public School, Campsie NSW
Logan from St Philip's Christian College Gosford, Narara NSW
Jude from Arndell Anglican College, Oakville NSW
Isaac from Queanbeyan East Public School, Queanbeyan NSW
Willem from Palmerston Christian School, Marlow Lagoon NT
Teiva from WoodLinks State School, Collingwood Park QLD

Blayke from Angle Vale Primary School, Angle Vale SA
Hudson from Craigieburn South Primary School, Craigieburn VIC
Xavier from Karingal Primary School, Frankston VIC
Immanuel from St John Vianney's Primary School, Mulgrave VIC
Malakye from White Hills Primary School, White Hills VIC
Oscar from Melville Primary School, Melville WA
It goes without saying that the Regional Championships were a huge hit! One of our educators in Victoria said, "The games were intense, the children were so focussed. It was like Wimbledon!"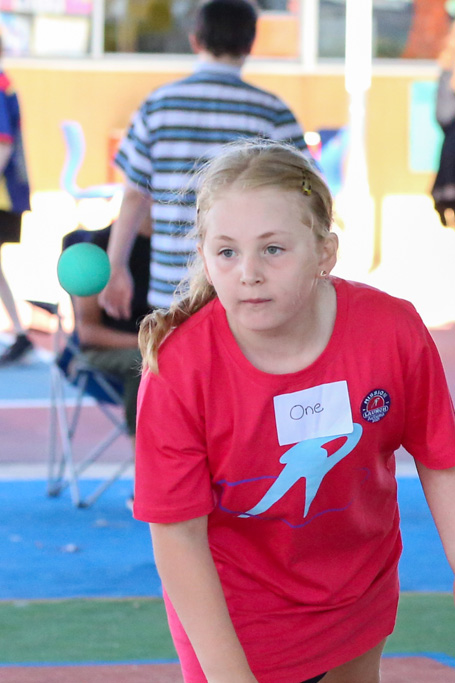 Children were excited for the day and some of their responses were:
"I was a bit nervous, but I think I went pretty well. I really liked playing handball at after school care."
"It was really hard, all of them were really good players. It was a well-run tournament."
"I've been doing lots of handball practicing. I think I met some new friends."
"I had lots of fun today and I really like playing handball. I'd say to practice a lot. Every day, I'd go out with my friends and play with them and help them learn while teaching myself."
One of the winners said, "I feel so privileged to come here and do my best." We asked him if handball is a game that means a lot to him. His response, "One hundred percent, it's almost my life."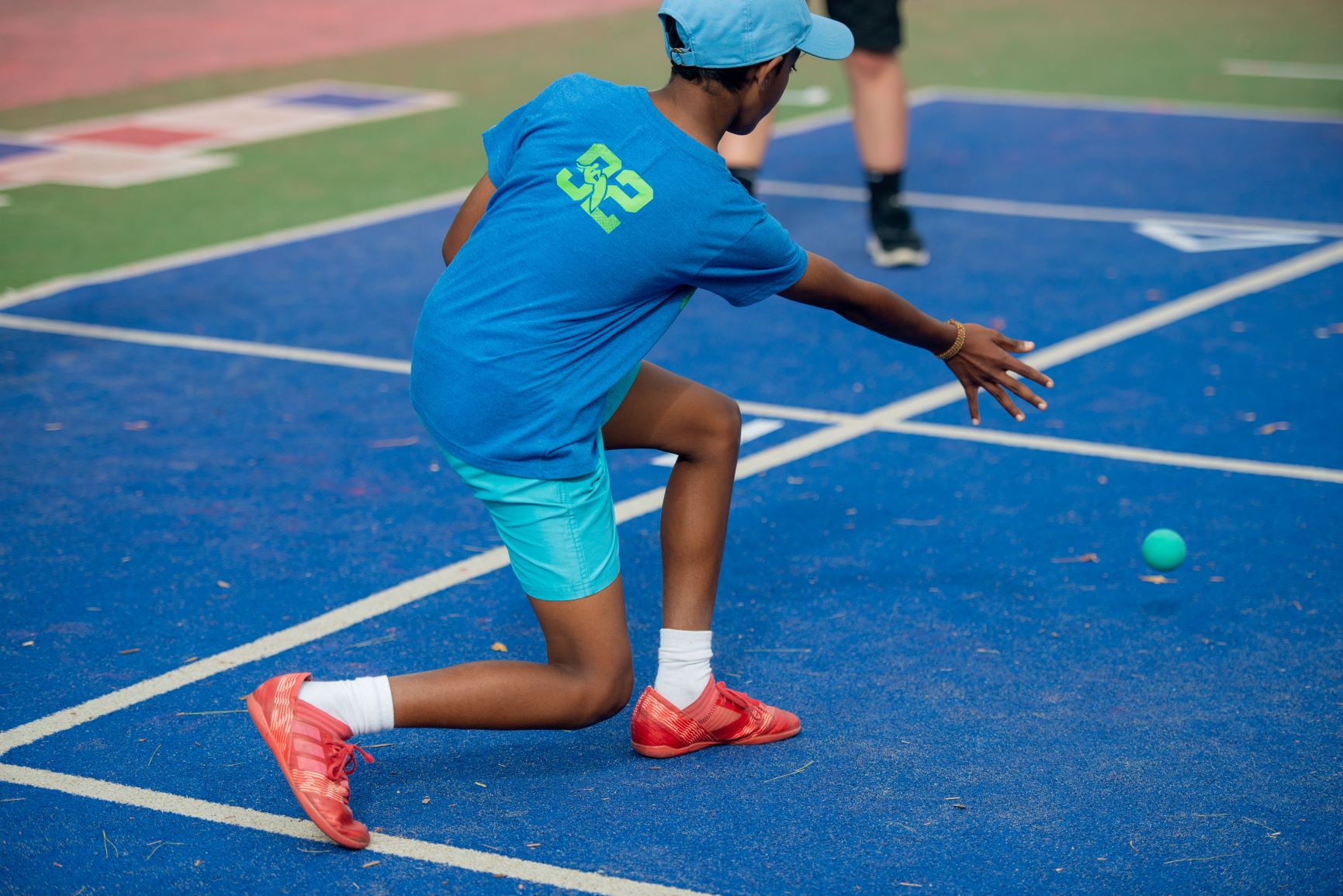 Another component of the National Handball Championships included the Ultimate Rally Championship, which was held to allow children living in remote areas the opportunity to complete in an online competition. These winners were selected by Handball Australia based on the longest rally:
1st prize ($750 eftpos gift card) - Cooper from Nowra Anglican College, NSW
2nd prize ($500 eftpos gift card) - Samuel from Baringa State Primary School, QLD
3rd prize ($250 eftpos gift card) - Shanna from Our Lady Star of the Sea, NSW
A competition born out of the need for physical activity has turned the focus on screens to getting out into the fresh air for a bit of fun and exercise. This is what we call healthy competition, and we thank everyone involved in the National Handball Championships and congratulate all children who participated.