Family dynamics have shifted since COVID-19. Altered routines are now the norm for most family members, who are also adapting to the changes associated with spending more time with each other. Talking to children about COVID-19 is not as straight forward as what some parents had hoped. If you're finding this topic difficult to navigate at home, the advice from Andrew Fuller, one of Australia's leading psychologists who specialises in the wellbeing of children, will lead you in the right direction.
The role of parents and adults in talking to children and young people through this time is crucial.
As the situation progresses the types of challenges we face will change, along with the general reaction of most people. This will most likely follow some fairly predictable stages. The conversations parents will need to have with their children will change as they navigate through COVID-19.
The current challenges to us all heighten and amplify everyone's feelings. Young people and children will vary in their feelings, some appearing to be relatively unconcerned while others are restless and sleepless. Let's consider ways to get through this first phase successfully.
The predominant feeling in this first phase will be one of bewilderment and panic driven by fear. At times you will feel you may be over-reacting, and other times under-reacting. Uncertainty is common during this stage.
Conflicting messages about levels of risk will drive fear and we have already seen hoarding behaviours as people attempt to protect themselves from being impacted.
Clearly when a society has such a powerful reaction to an outbreak, the effects are transmitted to young people.
What children may think
Fears of death are common at the best of times in middle childhood and are added to by the sometimes morbid thoughts of teenagers. These are not the best of times.
This may bring an over-estimation of the likelihood of fatality in either themselves or other family members resulting in clinginess, checking on everyone's whereabouts or frantic distraction, often through compulsively playing computer games.
A few children and young people will be able to express their fears directly and be able to have conversations where risks can be appraised.
What children may feel
Awareness of feelings will vary. Some will acutely sense fear and may experience disturbed sleep. Others will be 'out of sorts' and grumpy, with little understanding that their feelings relate to changed circumstances.
What you may see
While some young people may initially see this as an enforced holiday with an opportunity to binge on their favourite computer games, others may be irritable and be atypically reactive to disruptions and changes. How young people deal with fear varies.
Transition times in homes (bedtimes, mealtimes, getting up in the morning and stopping playing computer games) may be times for high friction. Slowly ease into these changes.
When the world feels uncontrollable some people become controlling. This can be of personal belongings, family member's comings and goings and siblings. This also explains why some young people will become so fixated on playing computer games. When the world feels uncontrollable, you go towards the things you can control.
Other children become more primitive. One sign of this is siblings demanding severe reprimands and punishments if their brothers or sisters engage in minor misdemeanors. When parents (wisely) do not comply, criticism will be hurled at them.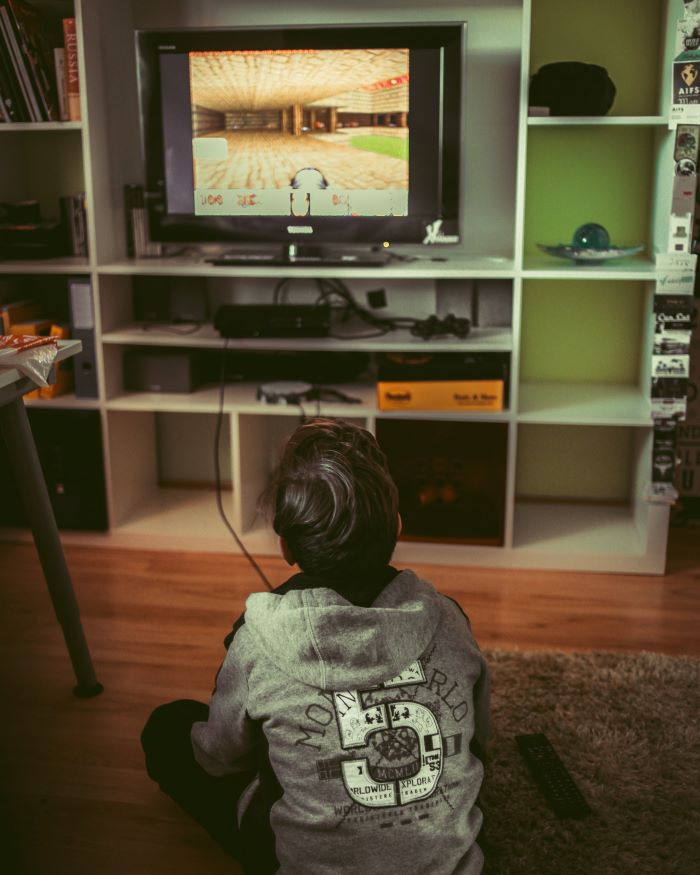 What you may consider doing
Be a cool and collected parent as much as you can. You may need to find a safe place for yourself at times where you can re-collect yourself.
Try to keep family routines as stable as possible. If you are spending more time with one another, attempt to give family members as much space as they need. You may even consider developing a signal that indicates to others that you need some alone time.
Uncertainly about money, work stability, food availability and health status put pressure on us all. Plan as much as you can but don't turn these times into a catastrophe.
This is not the time to overly restrict screen time. Young people use devices to socialise and will need to continue to do so.
Gaming is a good source of connection with others and also distraction.
When you enter a room to find a child or teen draped across a couch in idle bliss, it is recommended that your first greeting is not to ask, "Haven't you got work to do?"
Don't binge on news updates. Use high quality sources to be well informed once a day, no more.
What you may consider saying to children and young people
"These are uncertain times. We don't know how long this will last".
"The best minds around the world are already working on vaccines and ways to prevent us getting sick".
"This is awful and the way we feel now is not going to be the way we will always feel".
"We will do everything we can to make sure you and our family are safe".
"Even if one of us does get sick the risk of becoming seri­ously ill is low".
If they ask, 'will I die?' your best answer is 'no.'
"The world has been through health challenges like this before and come through and we will again".
About the author
Andrew is the author of "Tricky Teens" and "Tricky Kids" (Bad Apple Press), which may be useful during these times. He has also provided recent advice on how parents can remain calm throughout COVID-19. Utilising Andrew's expertise in the field of psychology proves beneficial in ensuring that our educators have the right resources available to not only tailor care for children with varying needs, but to nurture their wellbeing in an OSHC setting. Camp Australia has collaborated with Andrew Fuller since 2018 to develop a suite of training guides and resources for educators.